KSJ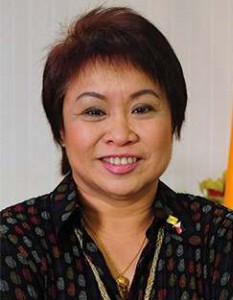 Kim S. Jacinto-Henares, 61 years old, Filipino, is an Independent Director of Basic Energy Corporation from May 12, 2021 to the present. She is currently a Director of Reg Tek, Inc. and serves as Senior International Advisor/Consultant to various groups and projects, like Albright Stonebridge Group. She is a Board Member of the Tribute Foundation for International Tax Dispute Resolution (The Hague, Netherlands) and a Commissioner of the Independent Commission for Reform of International Corporate Taxation. She served as a Member of the United Nations Economic & Social Commission for Asia and Pacific (Eminent Expert Group on Tax Policy and Public Expenditure Management, Bangkok, Thailand) and UN Committee on Experts on International Cooperation in Tax Matters (Geneva, Switzerland). She was appointed Commissioner of the Bureau of Internal Revenue and held office from 2010 to 2016, after being a Deputy Commissioner for the Special Concerns Group of the Bureau from 2003 to 2005. Prior to BIR, she served as Governor of the Board of Investment. She was Vice Chairperson of the Ad Hoc Group for Action 15 (Multilateral Instrument to Implement Tax Treaty Related Measures to Tackle Base Erosion Action Plan (BEPS) (Paris, France). She used to be connected also with ING Bank N.V. Manila Branch as its Vice President and as Deputy to the Vice Chairman of Security Banking Corporation. She was employed by Romulo, Mabanta, Buenaventura, Sayoc & Delos Angeles Law Office as Senior Associate and by Sycip, Gorres, Velayo & Co. as Tax Lawyer. Early in her career, she was General Manager of St. J. Square Marketing Corporation. She was also an Accounting Lecturer in De La Salle University, Manila.
She attended the corporate governance seminar conducted by the Institute of Corporate Directors for new directors of listed companies in December, 2021. She obtained her degree in Bachelor of Science in Commerce major in Accounting at De La Salle University Manila, and her Bachelor of Laws at the Ateneo de Manila University, consistently with flying colors. She further studied and obtained her degree in Master of Laws, major in International and Comparative Law at the Georgetown University (Washington DC, USA). She also attended the University of New Brunswick (Fredericton, New Brunswick, Canada), McGill University, Faculty of Law (Montreal, Quebec, Canada) and University of Toronto. Faculty of Law (Toronto, Ontario, Canada) as Fulfillment of the Requirement of the Joint Accreditation Committee. Finally, she obtained her Postgraduate Diploma in International Dispute Resolution at the Queen Mary University of London.
Having served the government as an accountant and lawyer, she was a recipient of the Lingkod Bayan Award by the Civil Service Commission and Order of Lakandula (Bayani).